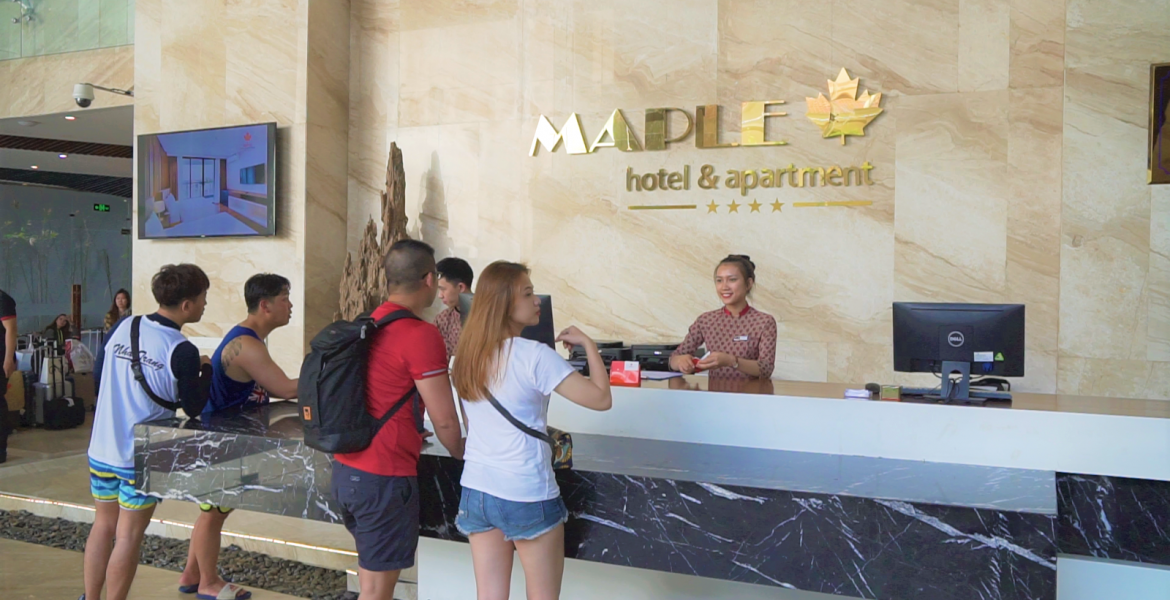 Comments Off

on HOTEL CHECK-IN AND CHECK-OUT TIME ARE 2PM AND 12PM, WHY?
All over the world, every hotel can set its own check-in and check-out time, but the most common time is 12 pm for check-in and 2 pm for check-out. Despite luxury or budget hotels, this is one of the regulations that guests should have in mind to avoid ruining their plans and mood during the trip.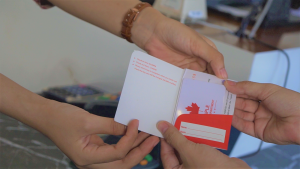 Why check-out time is 12 pm, not 8 am or 4 pm?
According to Smart Travel, the guests' main goal of renting a room/apartment is for sleeping, therefore, the hotel management usually set 12 am as the milestone, 12 pm for check-out would ensure the quality of their sleep and time for some activities after that. That's also the reason why the unit is "night", not "day". Later or sooner time could make some inconvenience. For instance, check-in time is 8 am or 4 pm, the guests have to be on a rush on having breakfast, packing on the following day(s) for checking out or it's too near to the dinner time.
We have 24 hours/day, why check-in time is 2 pm and check-out is 12 pm? Where are 2 hours left?
This period of time is for House Keeping staff to clean up the rooms before the new guests come. It takes about 15-30 minutes for them the clean and set up a room, and the number of staff is never as same as hotel rooms' one.
Check-in and checkout regulations at Maple Hotel & Apartment
At Maple Hotel and Apartment, the check-in and check-out time is also 2 pm and 12 pm.  Free check-in time is from 11 am to 2 pm depending on the availability. The early check-in from 6 am – 11 pm is charged 50% and before 6 am is 100% the room price of that day.
Aside from that, because late checking out could affect negatively the hotels' system and next check-in, the guest is recommended to check out before 12 pm as regulations. Late check-out would be incurred a surcharge of 50% of the room rate from 12pm-6pm; After 6 pm the surcharge is 100% of the room rate of that day.
If you have to check in early or check out lately according to your plan, please inform our Reception or note on your booking (via online travel agent/our reservation). So that we could have a better arrangement for you and the next guests (House Keeping staff would prioritize cleaning up your room earlier for example) and you could avoid some accidental incurred fees.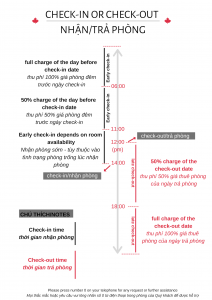 While waiting for check-in, guests can refresh with our free welcome drinks or enjoy the peaceful and luxurious space of Ottawa Café with various drinks and food menu. Your luggage would be saved and ensured by Maple Hotel & Apartment's Reception and Security staff (working 24/7).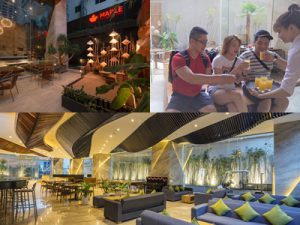 All of the above regulations are made clear at Maple Hotel & Apartment to ensure the right and the most satisfying experiences for our valued guests. Maple's staff could be flexible in actual situations and the guests' right is always our priority. Hope that our valued guests would go through our regulations of check-in and check-out to understand our work, especially in the peak or festive time.